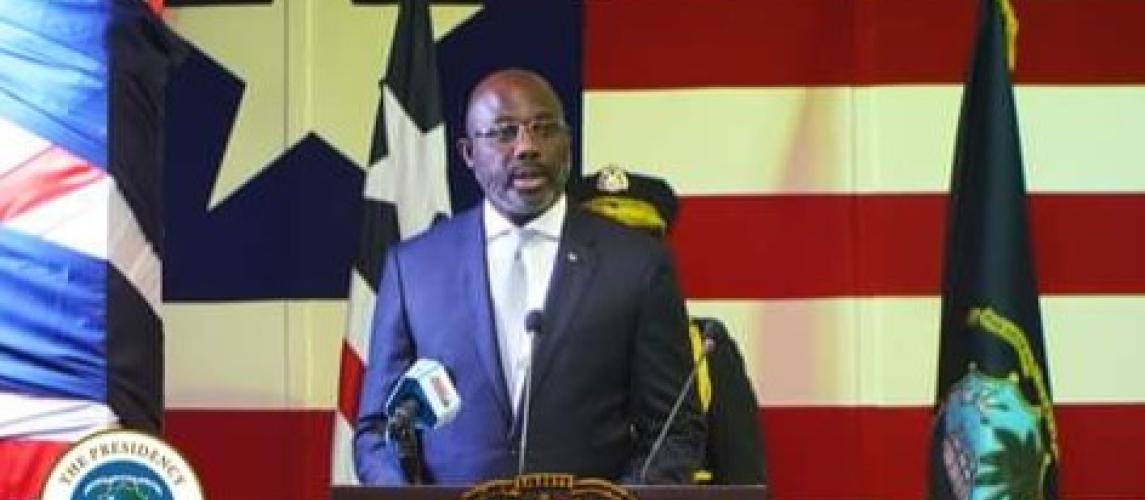 An Extract On Agriculture Contained In His Excellency President George Manneh Weah's 5th Annual Message To The 54th National Legislature.
AN EXTRACT ON AGRICULTURE CONTAINED IN HIS EXCELLENCY PRESIDENT GEORGE MANNEH WEAH'S 5TH ANNUAL MESSAGE TO THE 54TH NATIONAL LEGISLATURE.
"During my last address to this Honorable Legislature, I informed you that agricultural productivity would be a key priority of this Administration.
The year in review saw several new beginnings and milestones for the agricultural sector. Private sector interest and investment in agriculture grew heavily, especially after the holding of the National Agriculture Fair in February, 2021.
The Fair highlighted Liberian agricultural productivity, and while outlining the challenges faced by producers and agribusinesses, it also presented the abundant opportunities in agriculture and agribusiness.
I can proudly report to you that the number of commercial farms and agribusinesses more than significantly increased from 77 in 2021 to 164 in 2022 , while there are now dealerships of agricultural machinery, complete with spare parts and workshops.
This is a positive development for the efforts to mechanize Liberian farm production, and is a natural next step to the Government of Liberia's own efforts through the Ministry of Agriculture, to provide tools, equipment, seeds, seedlings to farmers, farming communities and cooperatives.
The interventions we made as a Government have led to increased acres planted in most crops, but especially so for basic foods like rice, cassava, oil palm and vegetables.
As the country moved into harvest season towards the end of the year, bumper crops are reaching rural and urban markets, due to improvements in the logistics and supportive infrastructure that we have provided for agriculture.
Dedicated warehouses for cocoa producers were constructed and/or rehabilitated in Nimba, Lofa and Bong counties; while processing plants for palm oil were built in Grand Bassa, Bong and Lofa counties. Rice processing plants in Lofa county were finalized in time to process the massive harvests coming in from expanded farms.
The Ministry of Agriculture developed and negotiated and signed, along with the Ministry of Finance and Development Planning, key new projects valued at over $73 million US dollars.
The World Bank's Rural Economy Transformation Project, (RETRAP), which is meant to expand the ongoing Smallholder Transformation and Agribusiness Revitalization Project, STAR-P, was developed for a total value of $55 million US dollars.
The RETRAP will oversee the paving of the road from Tappita in Nimba County to Toe Town in Grand Gedeh County, completing a vital portion of the Ganta-Harper Highway that is already ongoing.
This major piece of road construction will, by next year, see the paving of the road going into neighboring Côte d'Ivoire, and will facilitate the free movement of goods, passengers and services in the sub-region. In addition, the RETRAP will drive resources into the rubber, cassava, poultry and piggery sectors to complement other projects in rice, oil palm and vegetables.
MR. SPEAKER:
Access to finance for our farmers was a key focus during the period in review.
The Rural Community Financing Project implemented in collaboration with the Central Bank of Liberia and the Ministry of Finance and Development Planning, having been impacted by COVID-19-induced lock-downs and the closure of several banks in rural areas, was successful in getting eleven (11) Rural Community Financing Institutions more operational.
A key part of the transformation of Liberian agriculture involves the engagement with the Private Sector. In 2021, the Nimba Rubber Corporation began exporting processed rubber from Liberia, including processing rubber from private farms for export markets. This represents a fundamental shift towards industrializing Liberia's oldest commercial agricultural sector.
Also in 2021, the Atlantic Cocoa Corporation exported the first containers of certified organic cocoa from Liberia. While Liberia's cocoa production lags behind production giants in the region, Liberian cocoa continues to win awards and prizes in international competitions for its exceptional quality. My administration is therefore promoting and working to provide the enabling environment for high quality production of cash and food crops.
The Consumer-Packaged Goods (CPG) industry in Liberia is growing exponentially, especially with the establishment and growth of light industries. In this regard, the award-winning J-Palm
Corporation with its Kernel Fresh products made from Liberian palm kernels stands out as an example of Liberian entrepreneurship excellence.
Several companies and agro-processors in the cassava sector, arguably Liberia's largest agriculture sector, also stand out for their outstanding supply of gari and fufu flour to national food reserves for re-distribution during the COVID-19 emergency.
MR. SPEAKER:
We will continue to increase our efforts to ensure value addition to our agricultural products, provide for access to our farmers and enhance support to expand mechanized farming throughout the country" .