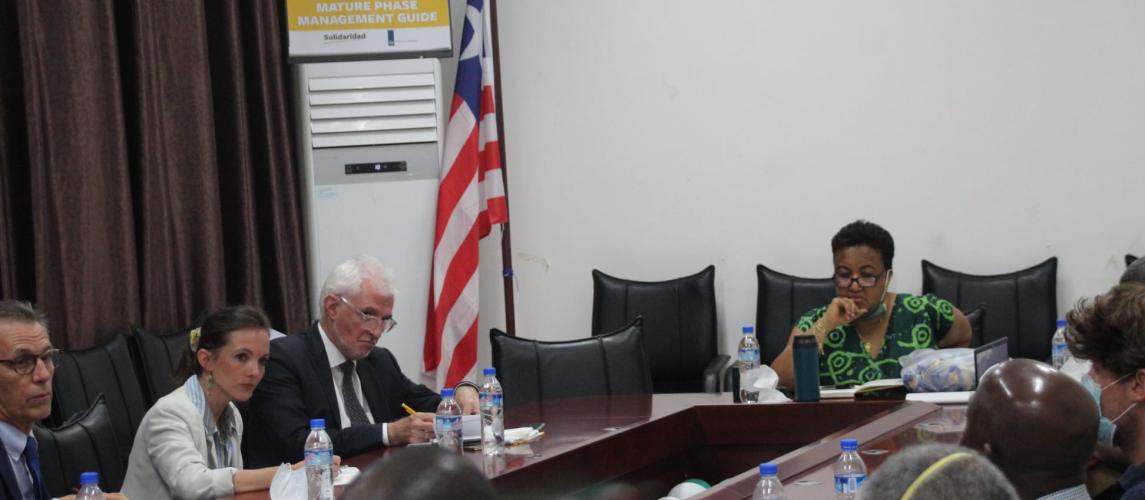 French Government pleased with progress in Liberia's Agriculture Sector & wants to assist
(Ministerial Complex, Monrovia, Friday, November 19, 2021): - The Government of the French Republic through its Ambassador accredited near Monrovia, His Excellency, Michaël Roux, on Thursday led two French state-owned agencies for start-up discussions with the Minister of Agriculture, Jeanine M. Cooper, on France's support to Liberia's agriculture sector.
The French development agency, Agence française de développement (AFD) and its agricultural research center, Centre de coopération internationale en recherche agronomique pour le développement (CIRAD) were at the kick-off talks accompanied by Jean Pierre Chomienne, Counsellor on Food and Agriculture in the West African region at the French Embassy near Abidjan.
Minister Cooper's lieutenants overseeing technical advisory, external partnership and project management along with some agribusinesses in the animal products, cocoa and coffee, food processing, oil palm and rice were part of the preliminary discussions.
Ambassador Roux said the French Government is pleased with the level of progress thus far in the sector and has decided to have a focus on agriculture under its new programs for Liberia.
Minister Cooper asserted that Liberia prefers French aid to help assist farmers and producers in source traceability of agricultural products from Liberia to international markets that will yield premium pricing.
Source traceability is the tracking of agricultural products from seeds to planting and processing to ensure that they were sustainably produced with no damage to the environment, organically grown and under fair trade standards without the use of child labour and unfair pricing for farmers.