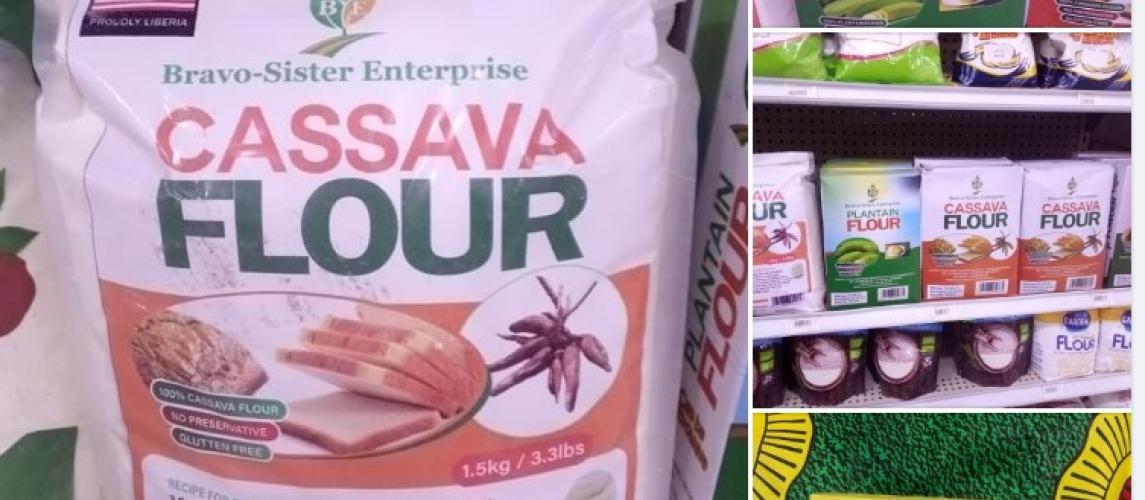 MOA's supported businesses move into cassava & plantain flour production as substitute for wheat flour amidst Global shortage
MOA's SUPPORTED BUSINESSES MOVE INTO CASSAVA & PLANTAIN FLOUR PRODUCTION AS SUBSTITUTE FOR WHEAT FLOUR AMIDST GLOBAL SHORTAGE
Bravo Sister's and Falama Incorporated, two of many Liberia's leading agribusinesses specialize in all cassava processing, have expanded their food businesses with the assistance from the Ministry of Agriculture ( MOA).
The two are among many Liberian food processors that benefitted from the COVID-19 mitigation programs in 2020 and 2021.
"We thank Minister Jeanine Cooper and the MOA for coming to the rescue of us agribusinesses that made us expand our businesses", joyful Mrs Weedour Freeman and Angie Howard declared.
Their firms have now gone into well-packaged cassava and plantain flour production which are being sold in various supermarkets.
Cassava flour is a main substitute for wheat flour amidst the global shortage of wheat due to the Russia-Ukraine crisis.
Joseph Morris, President of the Liberia Cassava Sector Working Group, an umbrella organization of cassava farmers, producers, processors and policy makers, is advocating for 10% of local bakery products to be made of cassava flour.