We are still migrating content to our new website. Looking for document or information that you can not find here, please go to the old website.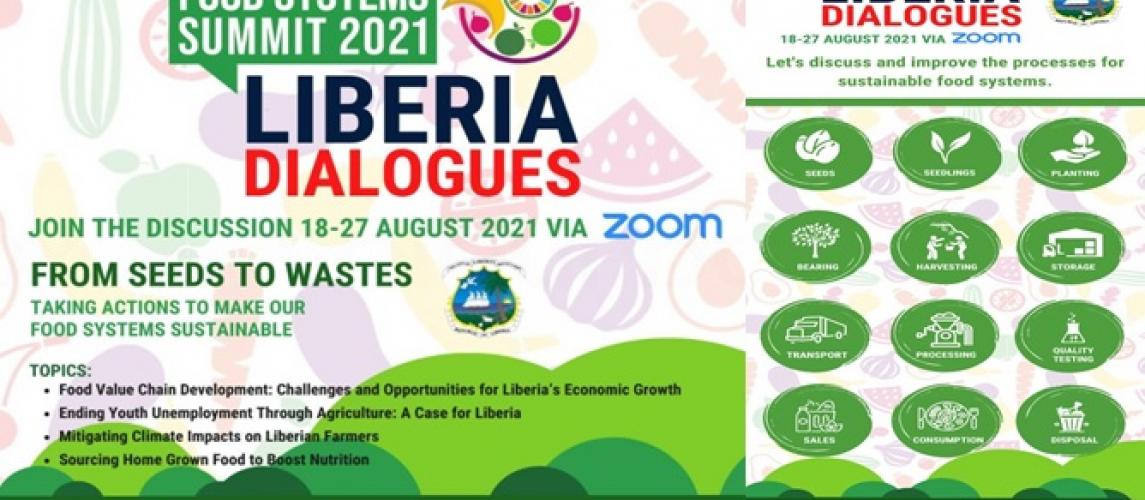 MOA Announces Holding of Liberia's Food Systems Dialogues
(Monrovia, August 13, 2021): -The Government of Liberia, through the United Nations Food Systems Summit's National Dialogue Convener and Agriculture Minister Jeanine M. Cooper, announces the holding of virtual national dialogues from August 18 to 27 for viable and sustained national food systems.
Hosting national dialogues in member states to gather broader and participatory views from all spectrum on food systems is a major component of this year's summit in September.
The overarching goal of the UN Food Systems Summit, to be convened by the United Nations Secretary- General in September 2021, is to help stakeholders to better understand and manage the complex choices that affect the future of food systems and to accelerate progress toward the Sustainable Development Goals (SDGs).
Liberia's dialogues will be convened in partnership with the United Nations systems in Liberia along with UK-based Concern Worldwide and Germany's biggest private developmental and humanitarian aid agency, Welthungerhilfe.
The Dialogues will attract stakeholders in the animal products, cassava, cocoa, oil palm and rice sectors that are particularly keen to Liberia's food systems.
Stakeholders will deliberate on four main topics: Food Value Chain Development: Challenges and Opportunities for Liberia's Economic Growth; Ending Youth Unemployment Through Agriculture: A Case for Liberia; Mitigating Climate Impacts on Liberian Farmers and Sourcing Home Grown Food to Boost Nutrition.
Liberia's common position – on a viable and sustainable food systems drawn from the dialogues – will be submitted at the summit in New York giving audience to all voices.
Already, the National Convener, had constituted a National Multi-stakeholders Group comprising of Government of Liberia's institutions, private sector actors, civil society groups, diplomatic missions, multilateral bodies and international non-governmental organizations actively involved in food security.
A National Coordination Secretariat, which the Ministry of Agriculture heads, has been in place since April to coordinate the national dialogues.