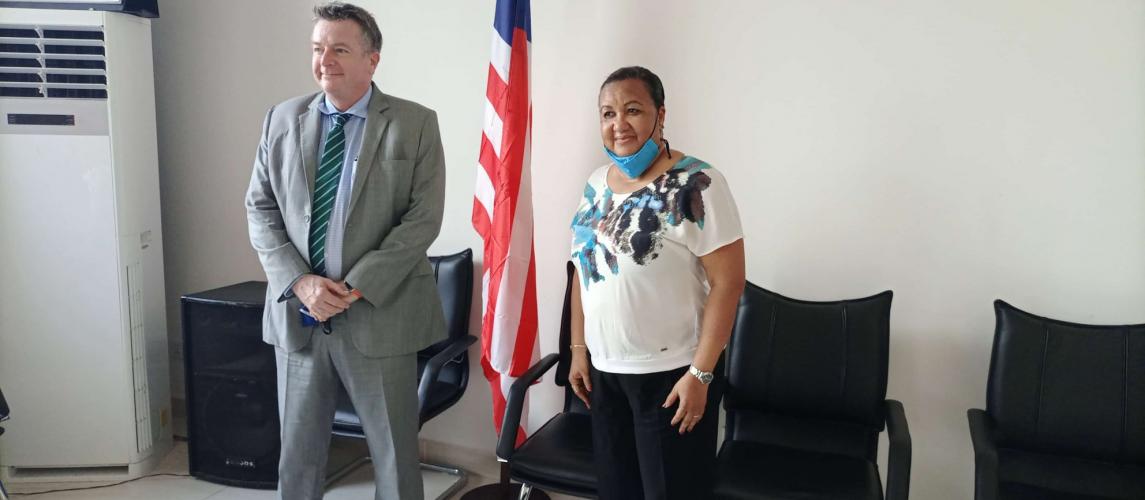 New EU Ambassador Impressed With Progress In Agriculture Sector
(Ministerial Complex, Monrovia, November 25, 2020) "I have lots of respect and admiration for you people at he Ministry who are introducing progress in this sector which is the heartbeat of almost everything, because when we work on agriculture, it crisscrosses every aspect of development".
These were the words of the newly accredited European Union (EU) Ambassador to Liberia, His Excellency Laurent Delahousse when he paid courtesy call on Agriculture Minister, Jeanine Milly Cooper, late Wednesday afternoon.
EU's Head of Cooperation, Theodorus Kaspers and Cooperation Officer on Agriculture Development & Food Security, Geertrui Louwagie accompanied Ambassador Delahousse as he was received in audience.
Minister Cooper expressed delight over EU's continuous support to the Liberian agriculture sector and called for introducing innovative ways of making donor-funded projects impactful for farmers.
The 28-member states body is, thus far, the highest bilateral donor to Liberia's agriculture program. 
Under its €279 [$332] million National Indicative Programme (NIP) for Liberia, Agriculture's funding amounts to €30 [$35] million and the remaining goes towards Governance, Energy and Education.
EU funds the integrated rice and fish farming project under the Development of Smart Innovation through Research in Agriculture (DeSIRA) at the Central Agriculture Research Institute (CARI).
At present, EU funds international non-governmental group, Solidaridad, to support the Cocoa Value Chain Development Programme that seeks to establish ten additional Centers for Cocoa Development by 2023.
The project will allow more cocoa farmers and allied groups to access support services to improve productivity and produce sustainable and certified cocoa.
The EU also funds Prosperous Agriculture Road Map to Nutrition and Entrepreneurship, Reinforcing Sustainability'(PARTNERS) which seeks is "to improve the productivity, resilience and sustainability of nutrition sensitive agricultural aims to improve the productivity, resilience and sustainability of nutrition sensitive agricultural practices"
PARTNERS project targets 6,600 small-holder farming households, 50 agro enterprises, and 220 vulnerable community households in Bomi, Grand Bassa, Grand Cape Mount, Grand Kru, Margibi, Rivercess and Sinoe counties.
It is implemented by a consortium led by Welthungerhilfe, with ZOA, Concern Worldwide and SPARK and phases out in January 2023.