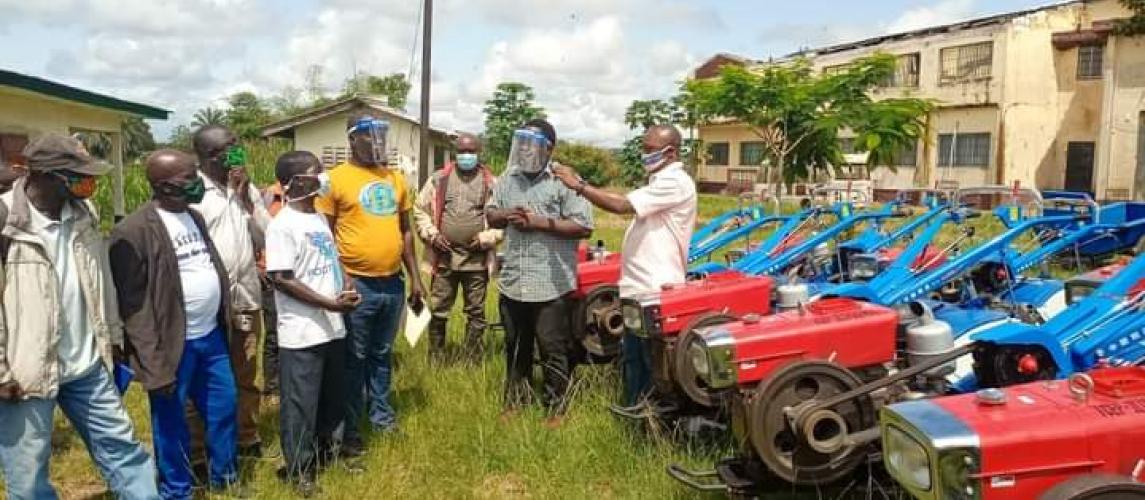 MOA Begins Handing Out Newly Arrived Machineries To Farmers
(Voinjama, Lofa County, June 29, 2021): -The Ministry of Agriculture has begun distributing power tillers – a very vital agriculture machinery for planting and harvesting – to farmers beginning with cooperatives in all six districts in Lofa County, a hilly section of the country dubbed as the nation's food basket, situated in northwestern Liberia.
Fifteen power tillers were issued to cooperatives in Lofa through the MOA's decentralized office, the County Agriculture Officer, after a thorough vetting exercise to determine their genuineness, proven engagements in small and large skill farming and abilities to utilize them.
Each cooperative is made up of more than 10 farming groups with each consisting, at most, 25 farmers.  The power tillers will be rotated among the farming groups under the supervision of those cooperatives.
A Power Tiller is a two-wheeled agricultural implement fitted with rotary tillers which gives a smooth resistance to all farm activities. It helps in preparing the soil, sowing seeds, planting seeds, adding & spraying the fertilizers, herbicides & water.
One of the recipients, Makona River Farm and Agriculture Services, was excited over the donation.
"On behalf of our team from the Makona River Farm and Agriculture Services, hardworking Rice and vegetables farmers in Lofa County and Foya District, we say a big thank you to Minister Cooper, Minister of Agriculture, President George Weah for the equipment donations. You gave us your word Minister Cooper and you kept it, thank you, the MOA family, the Lofa County's Agriculture team", Mr. Emmanuel Jayjay, head the MRFAS remarked
The Agriculture Department of the Lofa Community College also received a tractor that help train students in mechanization.
Funding to procure the power tillers was sourced from the Rome-based International Fund for Agricultural Development (IFAD) through the MOA's Tree Crops Extension Projects to support the Government of Liberia's COVID-19 Food Security, Nutrition and Livelihood Plan which the MOA developed in April 2021.
His Excellency President Weah along with funding partners, African Development Bank, IFAD and the World Bank also support the plan with financing.
Government of Liberia's Financing Agreements with IFAD for the TCEPs, ratified by the National Legislature in 2018 and 2019 respectively, restrict the funding partner's support to only Lofa and Nimba Counties.
IFAD funds MOA's Tree Crops Extension Projects which focus on support to cocoa farmers and rehabilitating cocoa plantations and farms through farming cooperatives in Lofa and Nimba counties.
An additional fifteen power tillers have been assembled and ready for distribution to genuine farming cooperatives in Nimba County through the MOA's County Agriculture Office.